It is becoming increasingly important for universities to reflect on and document their impacts on the economy and society. So we had a look at the impacts of our teaching.
In the WU mission statement, we state our commitment to being an institution that acts responsibly in everything it does. We were curious to see which positive effects our actions have on society and launched a project to research our impact. As a first step, we published a report on the impact of our research in 2020. This report showed that we contribute significantly to dealing with economic, social, legal, and environmental challenges.
In 2021, the focus was on teaching. We created a "Teaching Impact Map" and used 20 impact stories to show the diverse impact of our teaching on society.
"At WU, I learned how to ask the right questions, find solid evidence, and use these as a basis for decision-making."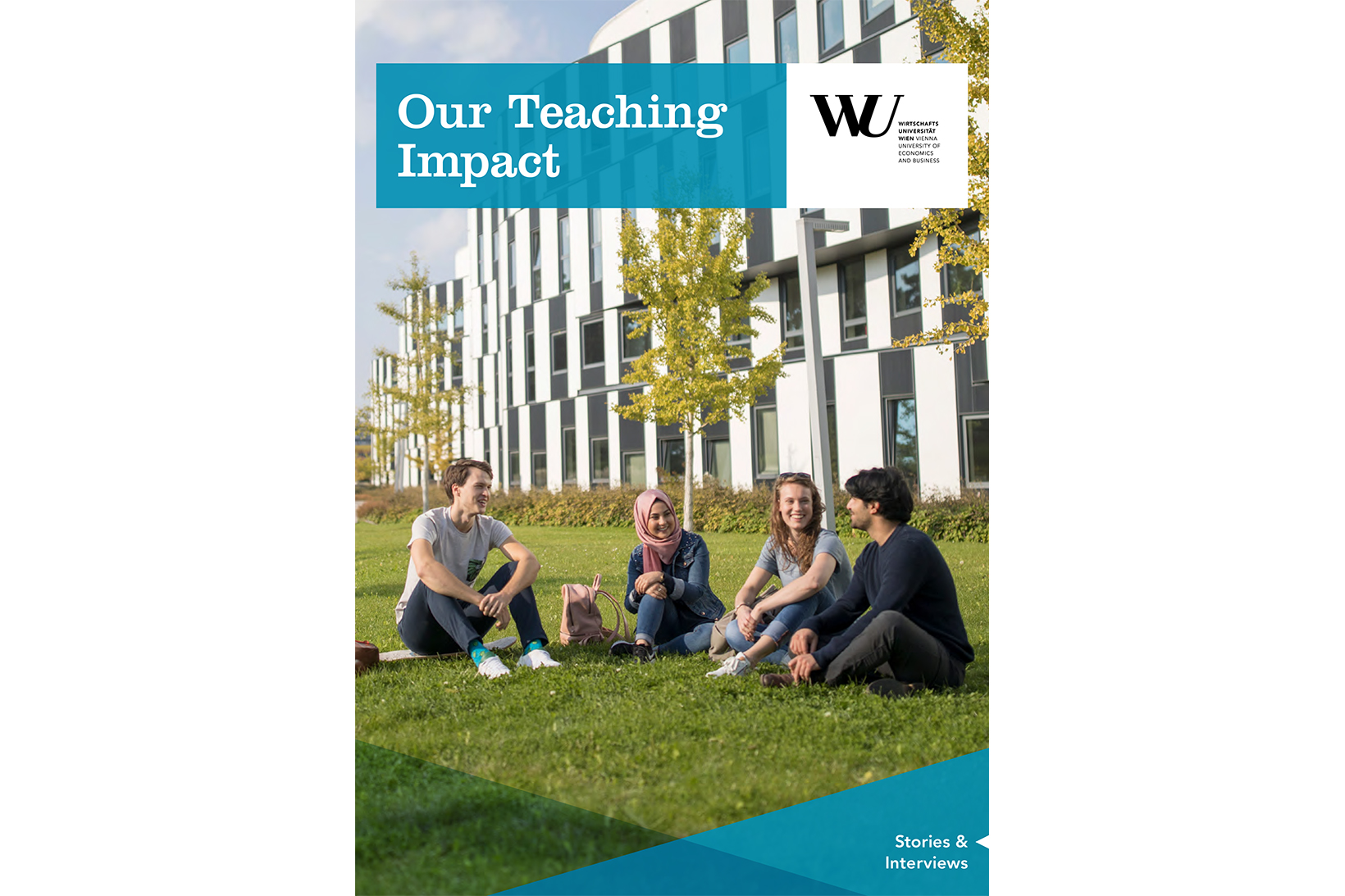 How does WU impact society?
Through its graduates
3.000
graduates (Bachelor and Master) per year
24% of the 500 most influential members

of the Austrian business community studied at WU

12% of the top decision makers

in politics and administration completed their education at WU

More than 20% of top executives

in Austria's top 500 companies are WU graduates
Through teaching entrepreneurial skills
250
start-ups founded by WU students and graduates
492 graduates

of the Master's Program Strategy, Innovation and Management Control since 2011

More than 3,500 students and graduates

with a focus on entrepreneurship & innovation on the bachelor level since 2001

Over 300 students and graduates

of the part-time MBA program Entrepreneurship & Innovation since 2006
Through digitalization in its program portfolio
350
graduates with a profound focus on digitalization every year
More than one third of all newly hired professors

focus on digitalization and IT

The new master's program Digital Economy

will educate students to become experts in digital transformation

In the bachelor's programs, there are

4 specializations in the field of digitization and the major Information Systems
Through digital teaching resources
The free-access digital teaching offers

reach thousands of people and students all over Austria

75 online available Lecturecasts

with over 280,000 views

48 LearnPublic modules

with around 17,000 registered users
Through executive education
80%
of MBA graduates are promoted or switch to a better position
Over 2,400 participants

from 75 countries every year

80% of MBA graduates

change jobs within 3 years after graduation - half of them are promoted to new responsibilities within the company, the other half changes companies to move up