Increasing numbers of high school students are applying for WU's degree programs. To make sure each student finds the program that's right for them, WU offers a comprehensive range of consulting and information services.
An Attractive University
A WU bachelor's degree is a launching pad for a successful career, which is why our bachelor's and master's programs are in such high demand. Every year, the number of applicants exceeds the number of available places by far. Our English-taught Bachelor's Program in Business and Economics is particularly popular. We received 2,068 applications for the 240 available places in 2021. Close to 70% of the applicants registered for this program come from outside of Austria.
Business, Economics and Social Sciences
Registrations in 2021
3,916
Registrations in 2021
1,595
Registrations in 2021
2,068
"This continued demand is a positive sign for us. It confirms that our business, economics, and law programs are widely known for their high quality, both nationally and internationally."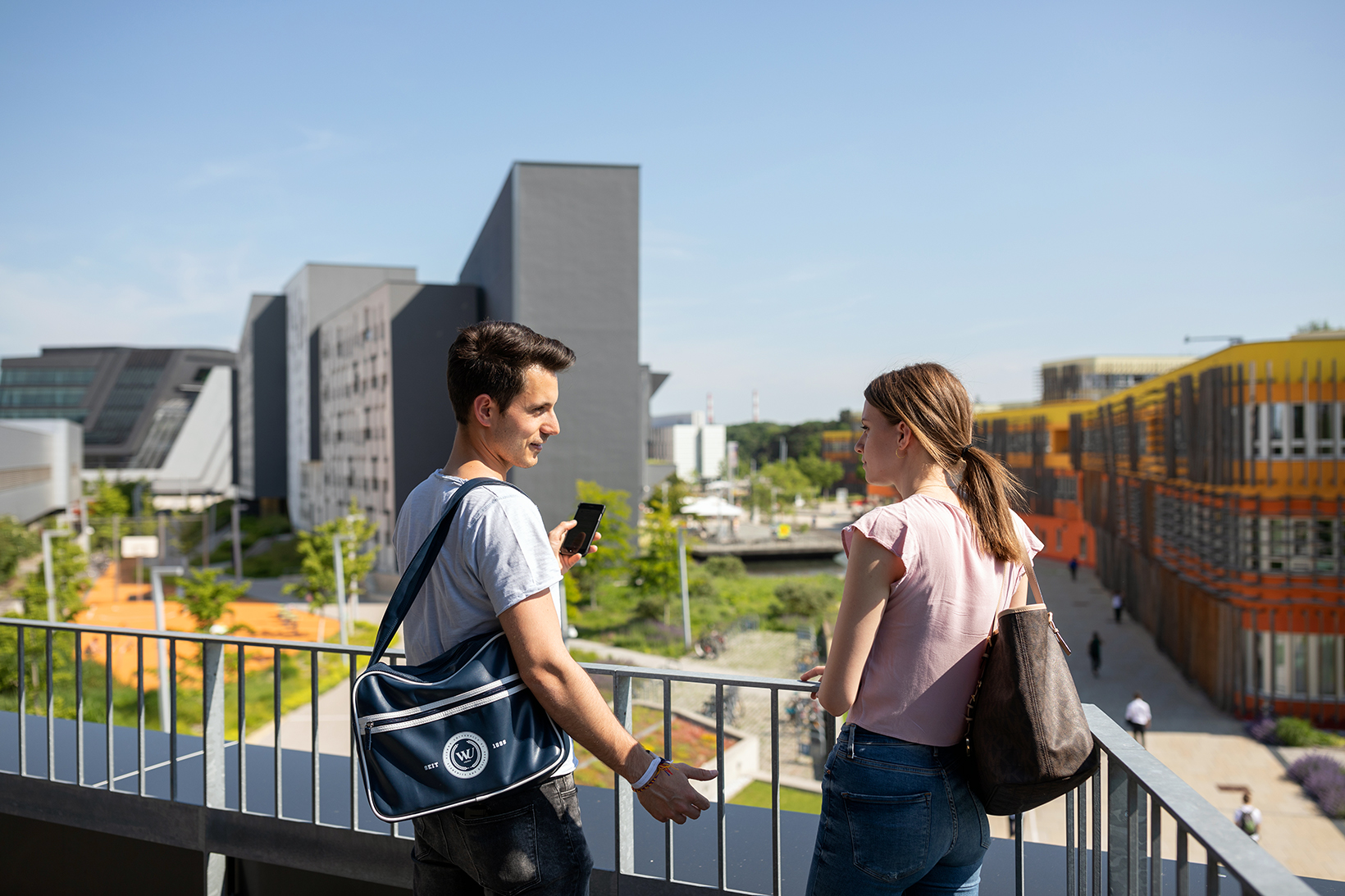 Information and Consulting Services
WU@School
Our WU@School program reached around 3,350 high school students in 2021. 884 of these students visited Campus WU or were contacted at their schools' in-house education fairs by WU@School tutors. Around 2,470 students took advantage of our online programs. This is approximately seven times more than in the previous year.
On location
Campus tour
WU@School tutors at in-house education fairs
Online
Info sessions on academic programs and the admission process
Online office hours
Virtual school visits
Academic writing lecture
"What is the economy?" workshop
Ready4WU
Ready4WU is a new program for high school seniors who already know that they plan to enroll in a WU degree program in the fall after graduation. The program is aimed particularly at first-generation students. 40 high school students from 24 different schools participated in the 2021/22 winter semester.
During two days off from school in October, the participants were introduced to university life. They attended four class lectures and two workshops at WU. The also had the opportunity to get to know some WU students during lunch at the Mensa cafeteria.
In late January 2022, participants attended a three-hour workshop focusing on career options with a WU degree. In April of 2022, we will be helping the students prepare for the admissions process.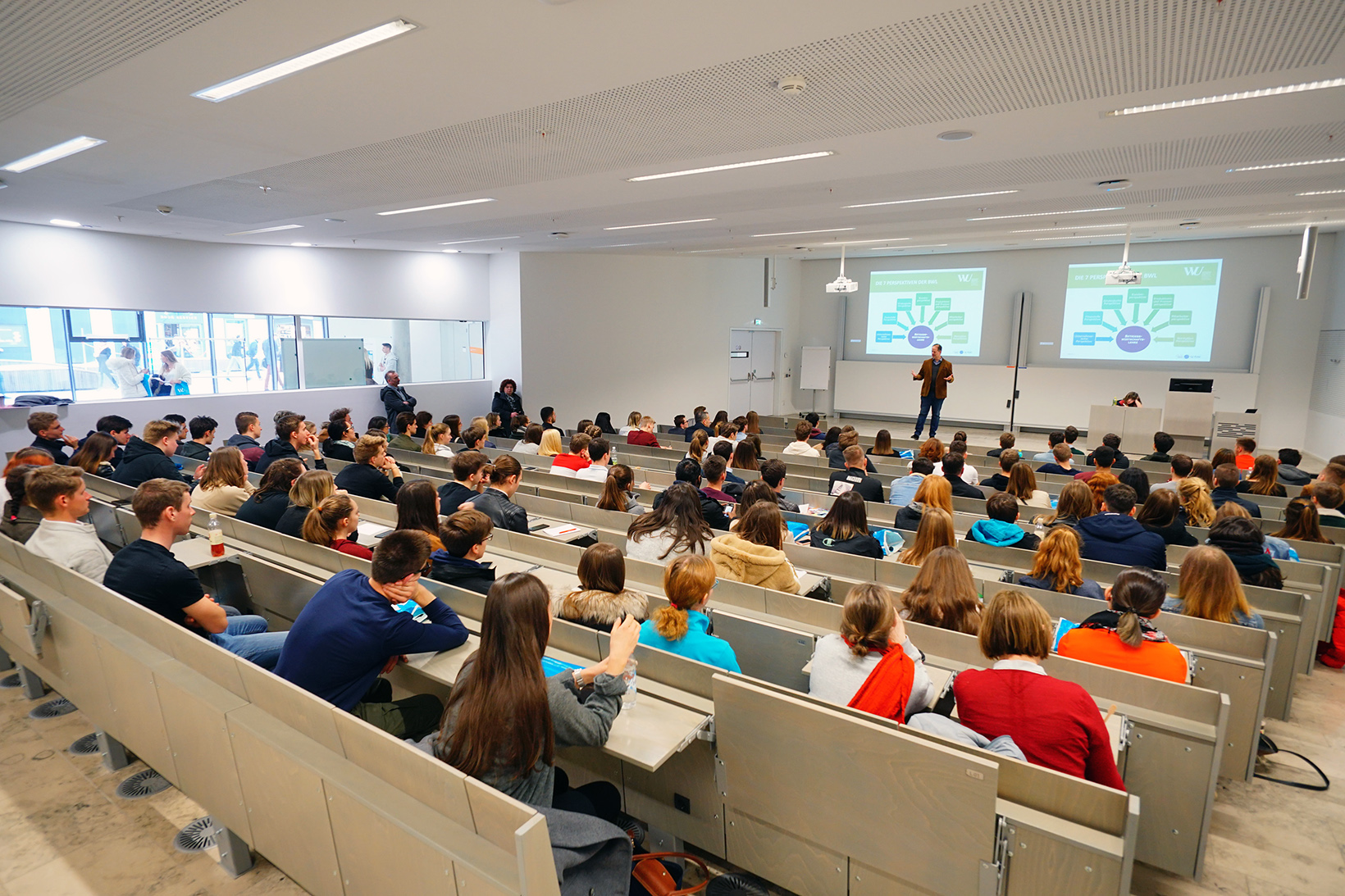 WU Bachelor's Day & WU Master's Day
Anyone interested in getting comprehensive information about a WU degree program had the perfect opportunity to do so at WU Bachelor's Day and WU Master's Day. At the online events in April and November, we gave prospective students an overview of the structure and content of our programs and presented individual job profiles, business sectors, and fields of activity. A series of Expert Talks and Expert Chats, held for the first time in 2021, allowed participants to get to know members of WU's faculty: Moderators interviewed the teachers, and students asked questions in a live chat, which were answered immediately. A virtual tour of WU's unique campus rounded off the program.
WU4YOU
The WU4YOU scholarship program was created to support bachelor's students who are the first in their family to attend university (first-generation students). In 2021, 32 students from our 52 partner schools applied, and 15 of them were awarded a scholarship. At a kick-off meeting in October, the scholarship holders met the WU Rector, the program sponsors (Oesterreichische Nationalbank, Mayr Melnhof, Vienna Chamber of Labor, Henkel, Porsche) and the academic coaches who will be supporting them during their studies. In addition, all scholarship holders participate in the WU Mentoring Program for first-year students. These programs help WU4YOU participants to get off to the best possible start in their programs.
The WU4You program was launched in 2016. Since then, 80 students have benefited from a WU4YOU scholarship. In 2021, six scholarship holders successfully completed their bachelor's degrees.