We are proud of our faculty, whose remarkable achievements earn numerous awards every year.
Ars Docendi Award
The Ars Docendi teaching award has been presented to the best and most innovative teachers at Austrian universities since 2013. Since the award's introduction, WU teachers have won four awards and eight honorable mentions, more than any other university.
In 2021, Michaela Nettekoven, Maria Krakovsky, and Lukas Kowarsch received an Ars Docendi award in the category "Digital Transformation in Teaching." Their course "Finance" was named as an example of particularly innovative university-level teaching. The jury was particularly impressed with the flexibility of the learning process and the course's responsiveness to students' individual needs and experiences. They also praised the use of digital innovations to enrich the course's teaching.
Claudia Klausegger's "Marketing Consulting Project" received an honorable mention in the category "Cooperative Forms of Learning and Working." The course, taught in the third semester of the bachelor's program, is a good example of hands-on learning early in the degree program and is particularly impressive due to the combination of research-oriented academic teaching and practical corporate experience, offered in a structured and collaborative setting.
Ars Docendi teaching award
from left: Michaela Nettekoven, Maria Krakovsky, Lukas Kowarsch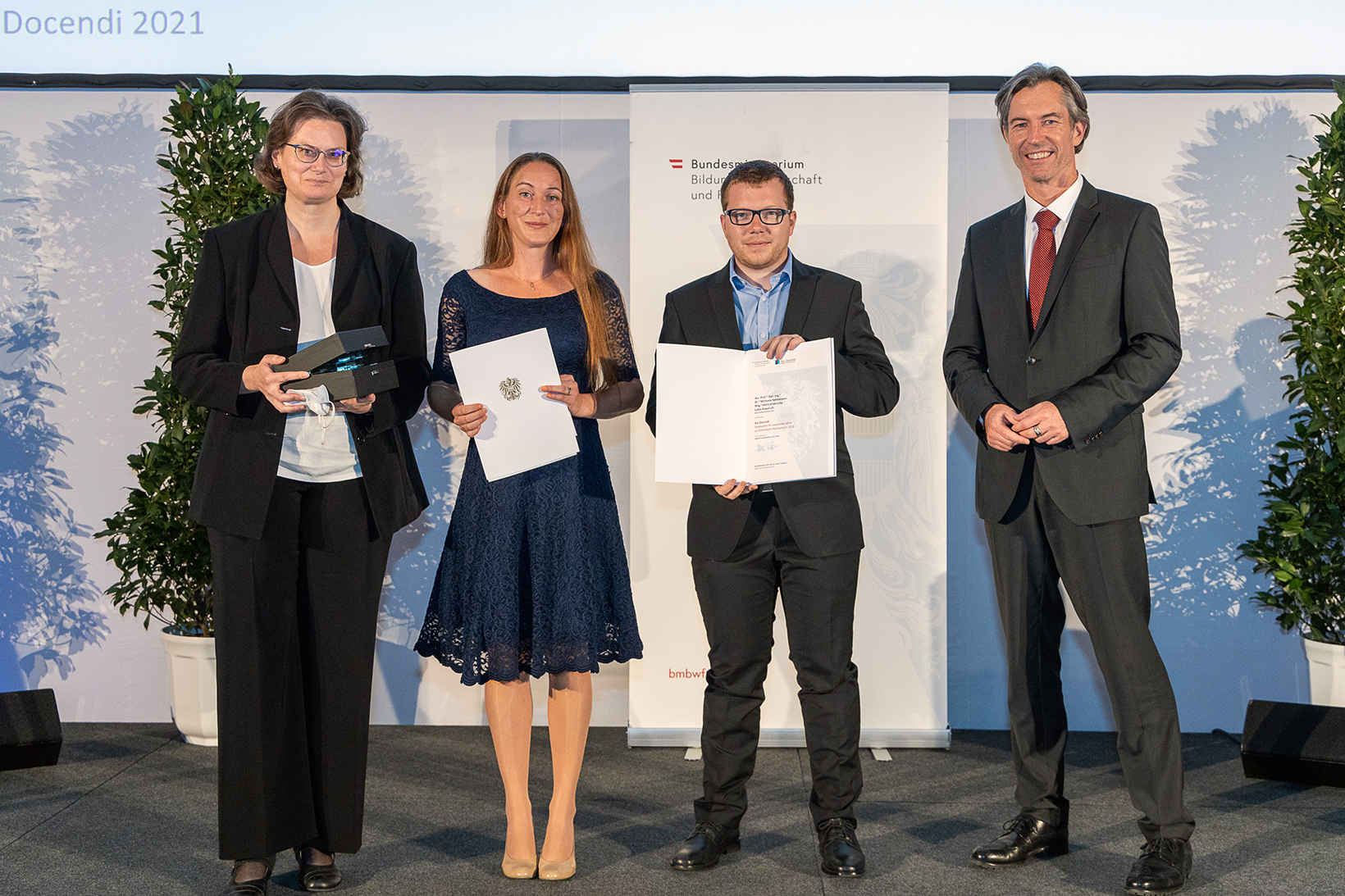 Excellent Teaching Award
Every year, we ask our students to name the teachers who have particularly inspired and motivated them with their enthusiasm for sharing their expertise during the previous academic year. Over 3,500 students responded in 2021, nominating 4,700 teachers for the Excellent Teaching Award.
Winners of the 2021 Excellent Teaching Award
Anthony Copnall (Department of Foreign Language Business Communication)
Tatiana Karpukhina (Department of Marketing)
Clemens Kerschbaum (Department of Information Systems and Operations Management)
Robert Kert (Department of Public Law and Tax Law)
Stefan Mayr (Department of Socioeconomics)
Ilse Pachlinger (Department of Management)
Alyssa Schneebaum (Department of Economics)
Martin Spitzer (Department of Private Law)
Katharina van Bakel-Auer (Department of Finance, Accounting and Statistics)
Markus Wabnegg (Department of Strategy and Innovation)
Our excellent teachers
from left: Tatiana Karpukhina, Robert Kert, Anthony Copnall, Markus Wabnegg, Clemens Kerschbaum, Stefan Mayr, Ilse Pachlinger, Lea Pressl (ÖH WU), Edeltraud Hanappi-Egger (Rector)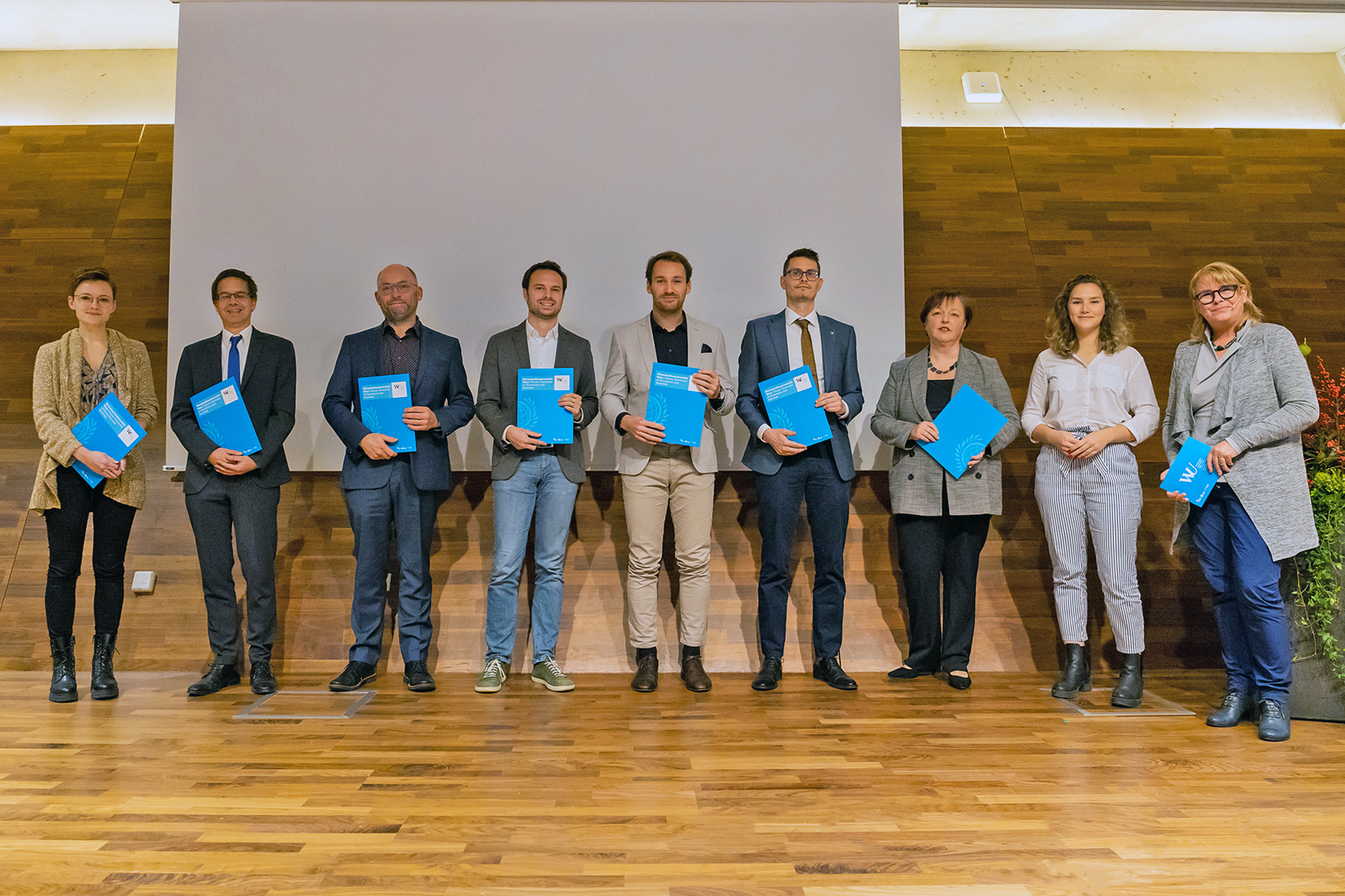 Innovative Teaching Award
The 2021 Innovative Teaching Awards focused on seamless learning formats and the design of learning settings. The winners designed courses that provided students with comprehensive specialist knowledge through a perfect interplay of traditional classroom teaching, interactive elements, contact with companies, and the sourcing of knowledge online.
Winners of the 2021 Innovative Teaching Award
Tatiana Karpukhina: Marketing Research Methods
Miya Komori-Glatz: English Business Communication
Rudolf Dömötör & Christian Rammel: Sustainability Challenge
Verena Madner & Stefan Mayr: International and European Law, Institutions and Governance
Kathrin Schwaiger: The internationalization of … oh, there's a white mouse – The use of resources in a behavioral economics context
Alexander Mohr & Can Tihanyi: Models of Internationalization
Monika Koller & Eva Marckhgott: Special Topics – Marketing Insights im Dialog mit der Praxis
Our innovative teachers
from left: Tatiana Karpukhina, Monika Koller, Eva Marckhgott, Verena Madner, Stefan Mayr, Miya Komori-Glatz, Edeltraud Hanappi-Egger (Rector)